Guest Blog Friday: Are you organized? Here's one way to start at home.
Who doesn't have stress?  I usually post ideas and tips pertaining to running a business.  However, when I saw what this business woman is doing, I thought it would be nice to post something that helps takes stress away from your personal environment. So, read on ……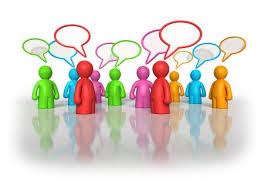 _________________________________________________________________________________________________________________________________________________________________
Kitchen Organization, Or How Not to Stress Out in the New Year
By Elizabeth Beach Hacking, ShelfGenie Designer
Picture it, 2014. A new opportunity for a new you. Hit the gym, go vegetarian – you know the drill. New Year's Eve is three weeks away, and while this post won't help you decide which of your five party invitations to accept (the one with the best food!), it WILL help you get a jump on your New Year's Resolution.
Getting organized always lands at the top of the resolution list, and it is not as daunting as it sounds. In this blog post, I am going to help you tackle the most important room in the house – the kitchen.  You can think of you kitchen as having five main areas – one for each basic function. I will go through each area and map out exactly what goes where, so that you can maximize your space and the time spent in your kitchen (this works whether or not you enjoy cooking).
Area 1 is The Preparation Zone. The preparation zone is where you chop, mix, and prepare food. The most strategic location for the prep zone is on the counter space between the sink and your oven/stovetop, or between the sink and the fridge.  Since you will be dealing with food here, keep it as clutter free as possible. You don't want to be chopping up chicken and have to maneuver around your waffle iron and popcorn maker. Items you will want to keep near your prep area include: knives, knife sharpener, cutting boards, mixing bowls, measuring cups and spoons, mixer, chopper, blender, food processor, spices, spatula, peelers and wooden spoons.
The next area is the Cooking Zone. This is obviously located next to the stove and oven. The ideal organizational layout of your cooking area is in a triangle with the stove, fridge and prep ar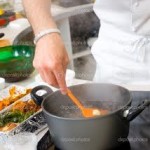 ea. That way you can move smoothly among the three areas, keep your prepared food in good condition, and minimize any accidents. The less you move your food, the less likely that it will end up splashed across the kitchen floor.  Items you will want to have stored near your cooking area include: pots and pans, bake ware, cookie sheets, pot holders, cooking and stirring utensils. If your stove is located separately from your oven, keep bake ware near the oven, and pots and pans near the stove.
 The third area is the Clean-Up Zone. This area will be as close to the sink and dishwasher as possible. Naturally you will keep sponges, dish towels, and dish soap here. It also makes sense to keep glasses, mugs and dishes in the cabinets above and nearest the dishwasher, and flatware in the drawer closest to the machine. All dishwashing supplies can be stored under the sink. The reasoning is simple. As you unload the dishwasher, it is more efficient to put the items away if they are closer to the machine, than if they are across the room.
 The Food Serving Zone is next. As you organize your kitchen cabinets, keep in mind that the best location for your food serving area is in a cabinet or buffet near where your family eats most often. The purpose here is to reduce the time and effort involved in setting the table and serving the food. It is nice to have all of your serving utensils, platters, table cloths, napkins, trivets, salt and pepper shakers, candles, and serving bowls handy when you need them. The items you use most regularly, like salt and pepper, napkins, and utensils should be kept in the upper cabinets or drawers near where you eat.
The Food Storage Area (also known as fridge and pantry) is your final frontier. It can seem overwhelming, but don't panic yet. The first thing to do is to throw out everything that is past its expir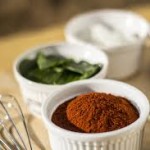 ation date. You should clean out your fridge weekly, to avoid festering leftovers. Often the items in the back of the pantry go unnoticed because they are difficult to get to. Store all similar pantry items together: canned goods, baking necessities, pasta, breakfast items, rice, broth, etc… Store heavier items on the bottom, and smaller items closer to the top. Keep the labels facing toward you, for a neater, more convenient presentation.  The more efficient your kitchen, the more time you have to enjoy the things that are really important.
 There it is. Our early New Year's gift to you.  In fact, if you get this done before December 31st, you can cross it off your list and enter 2014 having already accomplished your New Year's Resolution. How many people can say that?
Elizabeth Beach Hacking has been working with ShelfGenie for several years. She won the National ShelfGenie Designer of the Year award for 2013, and is passionate about helping people organize their homes in ways that make their lives easier. You can follow Elizabeth Beach Hacking, and learn more about ShelfGenie Glide-Outs, on YouTube, Pinterest, Houzz, and Facebook.