Discussion Groups
JOIN THE DISCUSSION!

Participate in engaging conversation on topics that matter to you and other members of your group through the business coaching, mentoring, and management consulting processes!
My mission is to guide you in challenging the status quo and think differently.  This is done through writing a simple one page business plan containing universal elements: Vision, Mission, Objectives, Strategies, Action Plans.  As facilitator, I will hold you accountable for accomplishing your stated goals and address any concerns and or issues you might have.
Be Coached and Mentored
Gain Focus and Problem Solve
Set and Achieve Goals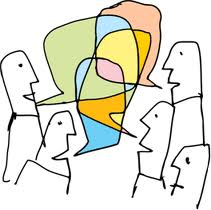 Discussion Groups Participants:
Business owners who have been in business at least five years
Decision makers in non-profit organizations
Decision makers in for- profit organizations
Independent Professionals
New business owners with a well conceived enterprise
Sample Topics:
What are the bread and butter issues faced by growing companies, from introducing products or services, to extending a product or service line, to expanding to new locations.
Revisit, refine and rewrite your mission and core value statements.
Do you need to recreate or update your brand | image | message?
Is there a formula for hiring the right people for the right position, at the right time?
What do you need to understand about Intellectual Property?
How can I leverage  learning new ways of doing business?

Topics as identified by the group
Prior to each session, you prepare for your participation by engaging in relevant, topical exercises and reading material emailed to group members.
As a direct result of attending a Discussion Group,  you will develop:
A better understanding of how you can focus and position your business strategy and team talent to positively impact you, your business, your brand.
Creative marketing strategies to better compete in today's business climate.
New insight and direction.
Renewed awareness and confidence.
Logistics and Pricing:
Groups meet for 2 hours, once a month.  Any group may decide for itself to meet longer or more frequently.
Members must commit to their group at least six months.
I facilitate each group meeting to ensure lively, meaningful discussion and fair and equal participation among all members.
You participate in a group limited to eight members per group; with a minimum of five members required to qualify as a Discussion Group.
Discussion Group Members pay a fee of $65.00 per session.  The fee is due even if a Member does not attend the session.  If a session is missed, all material will still be available.
Members may host a meeting at their place of business.   All other meetings will take place at The South Shore Chamber of Commerce Building in Rockland at 1050 Hingham Street (Route 228).
Contact me at jacollins@pfpconsult.com, or by calling 781.982.8812 to sign up for one of the Discussion Groups.

"Personable, engaging, challenging … Jacquie Collins facilitates her workshops so as to get even a disparate group of business professionals to commit to one another, and to inspire growth and sustainability in each participant.  If you come to her discussion group ready to work, ready to listen and support, committed to something better for your business and your life, you will walk away from every meeting with renewed strategies, confidence and energy to succeed and sustain."
–  Patricia Funder, Owner  
LaserLight Skin Clinic, LLC
Norwell, Massachusetts
Save